On Friday the Emerald Hills Institute Talk In Action crew made and served lunch for the remarkable people at the Volunteers of America Homeless Youth Resource Center – the councilors and young people were engaging, fun, and filled with hope, and we really enjoyed sharing a meal with new friends.
In the morning Ellie from UVU Interfaith Outreach and Austin from the U of U Religious Studies program helped along with Sean Merchant from the Salt Lake Mayor's office. We chopped fruit, potatoes, and onions, and Charlotte Gant made her signature green beans. We made traditional Turkish meatloaf and red lentil soup, as well as preparing fruit and vegetable salads and a beautiful cake for dessert. It was fun to connect with some new faces including two medical students from Turkey and our youngest volunteer, a very young man whose family comes all the way from Kazakhstan.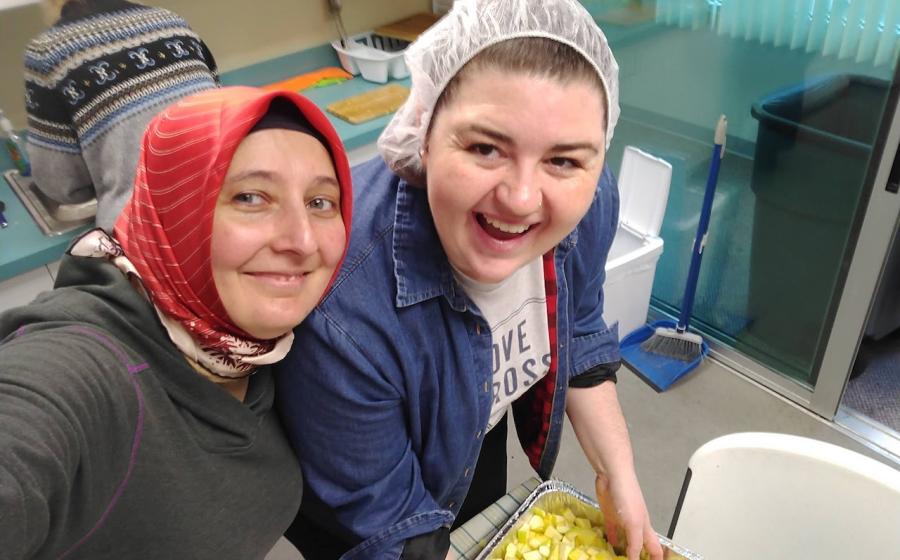 After our food preparation, we met up with the rest of the crew at the VOA – which included the retired chaplain for Primary Children's. We have a remarkably diverse group of volunteers representing the best of what people have to offer, and it's a lot of fun just to overhear the excited conversations and teasing as we're working together. The atmosphere of the Youth Resource Center is remarkable; next door they operate Maud's Café, a high-quality coffee house which also serves as a professional training ground. Excellent food and friendly staff – with a truly worthwhile mission to make the community a better place for everyone.
After serving, we enjoyed lunch ourselves with our new friends. The food and company were great!