EHI volunteer Hulya Kablan teaches Water Marbling at the Art Express
August 13, 2019

-

August 14, 2019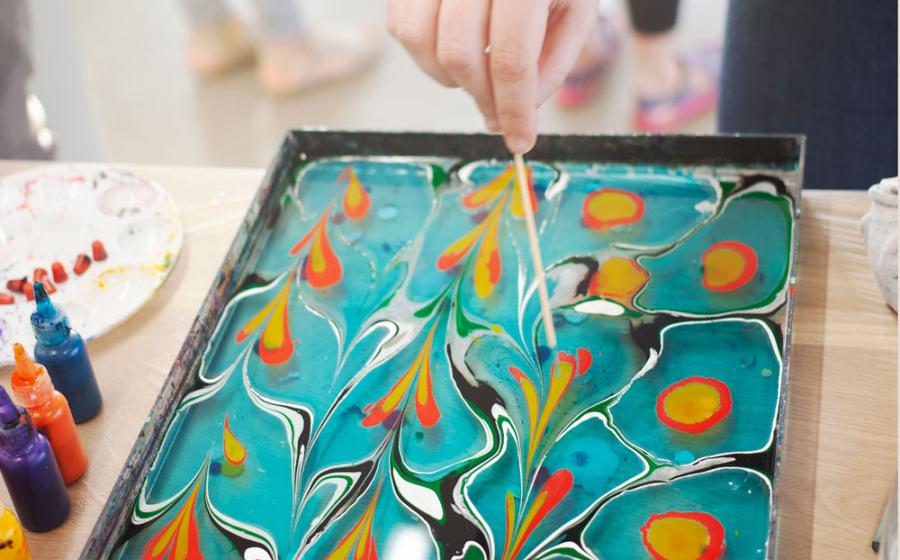 The 2019 conference hosted three keynote speakers—Katie Dawson, Antonio Sacre, and Mickey Rowe—and more than fifty breakout sessions with topics ranging from Japanese Bunraku puppetry to Turkish marble painting. This year's conference focused on creating inclusive environments for those with culturally diverse backgrounds and disabilities as well as helping students express themselves through storytelling and theater.
Teachers explored artistic voice by actively participating in sessions, dancing like clouds, constructing masks inspired by ancient works, or creating Turkish marble paintings. "I think that is the best way to learn, to get up and actually experience something in practice," said keynote speaker Katie Dawson. "If we are trying to transform the way teachers teach and learn in the arts, we need to be in a place like [Arts Express] where we are actually doing that work, feeling it in our bodies, ideating with each other, and asking critical questions." Please visit
https://education.byu.edu/news/arts-express-inspires-teachers-to-integrate-global-art-forms-in-classroom-lessons
to learn more.