Ramadan is a holy month when Muslims fast during sunlight hours. This month is special, because it commemorates the time when Prophet Muhammad first received revelation of the Quran by God, through Angel Jibril/Gabriel in 610 AD.

Muslims fast to express empathy towards those who are afflicted with hunger, poverty, and human suffering. Ramadan is a time where Muslims replace food and water with piety, prayer, self-reflection, and charity through the month to receive God's blessings and forgiveness. Muslims are reminded to appreciate worldly pleasures when they are commanded to deny themselves of them.

Each day during Ramadan, families rise before dawn to have breakfast early. This early mealtime is called suhoor. Muslim students may be tired for class during this time of year because their daily routine is altered. At the completion of this month, Muslims celebrate Eid- al-Fitr. This is a one-day holiday and students are encouraged to take the day off with their families to enjoy time with loved one and celebrate. Muslims are prohibited from fasting on this special occasion.
Most children start fasting at or around puberty.
Younger children may participate in shorter-term fasting, like a half-day, to feel included and get used to the practice.
Every child varies whether they may or may not fast.
Any Muslim that is sick of unable to fast for health reasons is excused.
Females do not fast during their menstruation period.
Never assume a child is or isn't fasting, as this may cause embarrassment if they are too shy to say whether they are or not.
Teaching about Islamic traditions is a part of the state approved social studies curriculum. Not only will you make Muslim students feel comfortable, but this will also encourage cultural awareness, cultural sensitivity, and global citizenship to the entire class.
Teach your class basics about fasting practices during Ramadan.
Ask your Muslim students if they'd like to share traditions.
Inform yourself when Ramadan starts every year.
Allow students extra time to complete assignments, reports, or exams.
Offer students that are fasting a separate room to be in during lunchtime at school. This will help them avoid thinking about food. They can rest, finish schoolwork, or read a book.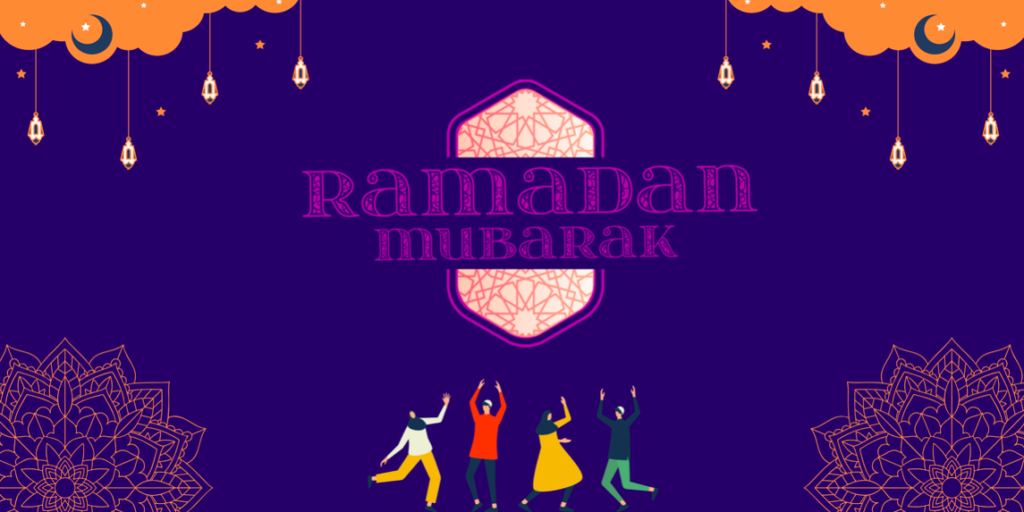 PROMPTS TO SHOW ENCOURAGEMENT/SUPPORT
You may greet students at the beginning of Ramadan by saying, "Happy Ramadan" or "Ramadan Mubarak."
"I don't have to know if you are fasting or not, but if you are and need anything from me to help you through the day/month, please let me know."
You may say, "Eid Mubarak" or "Happy Eid" to Muslim students when they celebrate the end of the Ramadan.
MINDFUL SCHOOLYEAR PLANNING
Avoid scheduling major testing during Ramadan/Eid holiday. There are school systems across the US that are mindful of this observance and arrange school-wide testing before or after the month.
Schedule fieldtrips before or after the month (including Eid holiday).
Avoid scheduling special programs (spirit week, field day, award ceremonies, etc.) that
involve food during the daytime.
You may also create a small prayer space/meditation space for Muslim students (or anyone of any faith background) to perform prayer, if needed (many students wait until they arrive home or skip prayer for lack of adequate accommodation at school). The duration of prayer lasts at maximum 5 minutes and is typically around lunchtime. Sports coaches can also help to give a team time out for Muslim students to complete the afternoon prayer.
WHAT TO DO IF FASTING AFFECTS ACADEMIC PERFORMANCE?
Work with parents if you feel students are showing signs of:
Excessive struggle to keep up with schoolwork
Falling asleep in class, or
Unable to focus, or otherwise ill (severe dehydration)
Avoid passing bias or judgment of Muslims that fast but raise concerns if ill health affects academic performance. Know that almost every faith group and cultures around the world engage in some form of intermittent fasting.
* Rubina Halwani is a Training and Inclusion Consultant and Public Speaker. She is available to speak on basic tenets of Islam, Ramadan traditions and building cultural competency in children, parents, and school faculty for accommodations, support, and anti-bullying education. She offers an interactive experiential program called "Gateway to Islam" for students in grades 6-8 to learn about Islamic traditions with in-class activities, apparel, and artifacts to see and touch.
To learn more, visit her website, rubinahalwani.com and select the Islam Inclusion Workshop tab.